This is one of the popular longer trek in Bhutan which covers along the remote northern border route.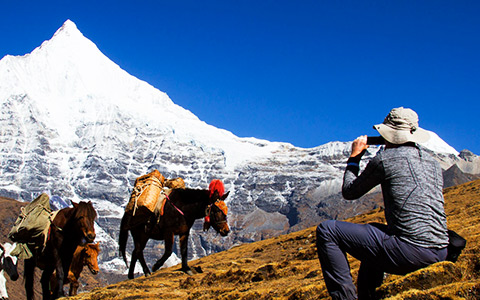 The medium hard trek covers diverse mountain landscapes, with a campsite at Jangothang, situated below Mount Jhomolhari (also known as Goddess of Mountains, at about 7314 metres).
The route also follow the high passes at Nyelela (4890metres) before reaching Lingshi and also Shingela pass (about 5005 metres) before reaching the next campsite at Lemithang. One can also come across vast flora and fauna and may grant an opportunity to see the blue sheep.The route also provide a glimpse to visiting the nomadic yak herders along the campsite, small villages and finally descending to the village of Gasa.
The best time of the year for the trek is from April till June and from September till early November.
DAY 2 | SHANA - SOI THANGTHANGKHA
DAY 3 | SOI THANGTHANGKHA - JANGOTHANG
DAY 5 | JANGOTHANG - LHINGSHI
DAY 6 | LHINGSHI - CHEBISA
DAY 7 | CHEBISA - SHOMUTHANG
DAY 8 | SHOMUTHANG -ROBLUTHANG
DAY 9 | ROBLUTHANG - LIMITHANG
DAY 10 | LIMITHANG - LAYA
DAY 12 | LAYA - KOENA/CHAMSA
DAY 12 | LAYA - KOENA/CHAMSA
DAY 13 | KOENA/CHAMSA - GASA